Smartwatch for kids (Blue)
SmartTrackerKids 20T - Blu
Smartwatch for kids with advanced emergency functions and remote control.
• Designed for the safety of kids and teens
• Sending of automatic alarms in case of fall or impact
• Waterproof smartwatch
•  GPS tracker for real-time position control
•  Security perimeter: identify an area within which the kid can move and receive alerts when the border is crossed
•  SOS button for emergency calls
•  Integrated thermometer for remote temperature control
•  We Talke: chat feature for exchanging voice messages
Immediate delivery!
Safe and traceable payments
Fast shipping
Smartwatch for kids and teens
SmartTrackerKids 20T Blue
Our children, we never stop protecting them: we spend time and use our energy to make them feel safe. Unfortunately, however, we will not be able to always be present in every aspect of their life… at least until now!

Imagine being able to continue to protect them even when he/she is not with you. SmartTrackerKids 20T has been designed to guarantee you a discreet and constant presence that will allow you to always be ready to intervene when needed.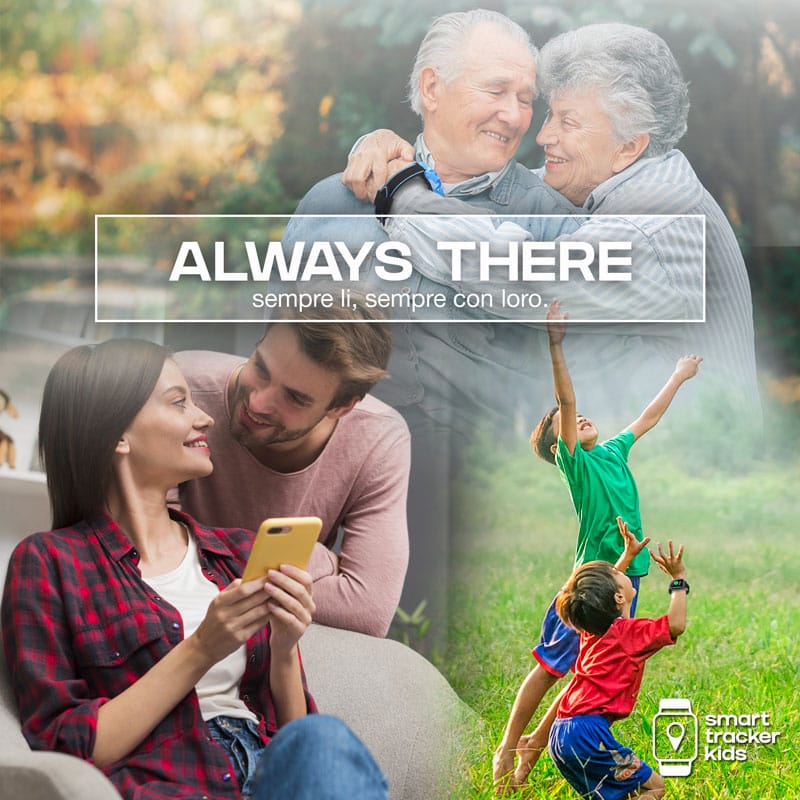 Check your children's smartwatch anytime, anywhere with the SmartTrackerKids App
Thanks to the SmartTrackerKids App (developed and written entirely in Italian), you will be able to remotely control the smartwatch for kids directly from your mobile phone, at any time.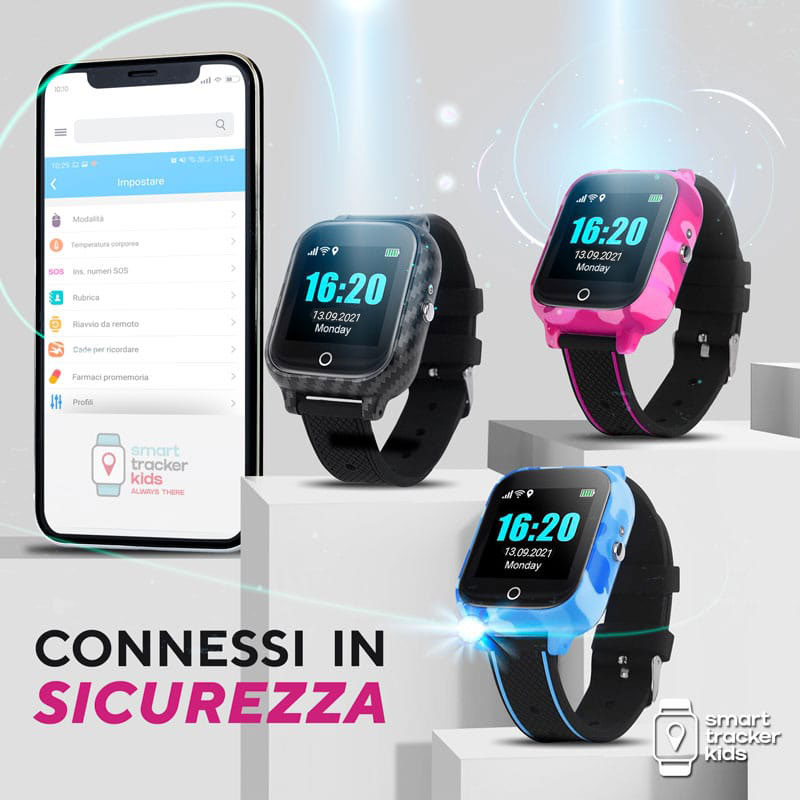 Built-in thermometer
Check your child's temperature whenever you want, directly on your mobile. You will also have access to the history of the measurements performed.

GPS tracker for kids
Kids' watch with integrated GPS which allows you to accurately track the real-time location of your children. The geolocation system of this smartwatch for kids is among the most precise: using the logarithms of Gmaps, it allows you to also check the paths taken by your child, functioning as a real GPS tracker for kids.

Geo-Fence function
Set a security perimeter to be immediately notified via automatic notification via app or SMS when your child leaves the defined area.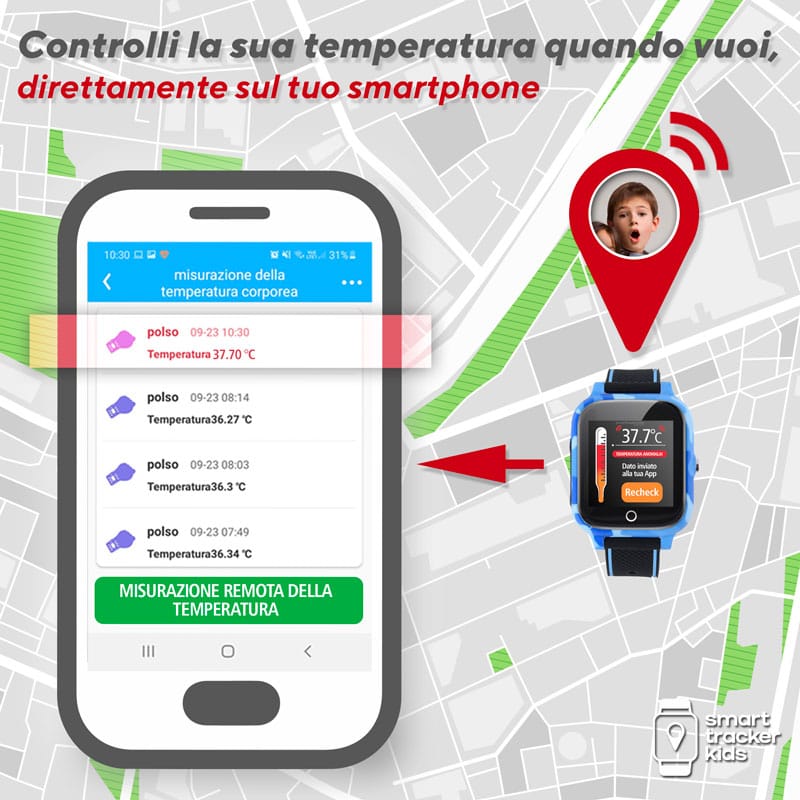 The SmartTrackerKids 20T smartwatch for kids arrives complete and ready to use, you just need to download the App and pair it with the device.
Here is a demonstration video of the App combined with the smartwatch for kids:
Smartwatch for kids with SOS button
Never make your child feel alone: with the SOS button he/she will know that you will be there at any time.

A simple press of the SOS button on the watch will start a call to the numbers set for emergencies (those of parents or trusted people) who will be contacted directly in case of activation.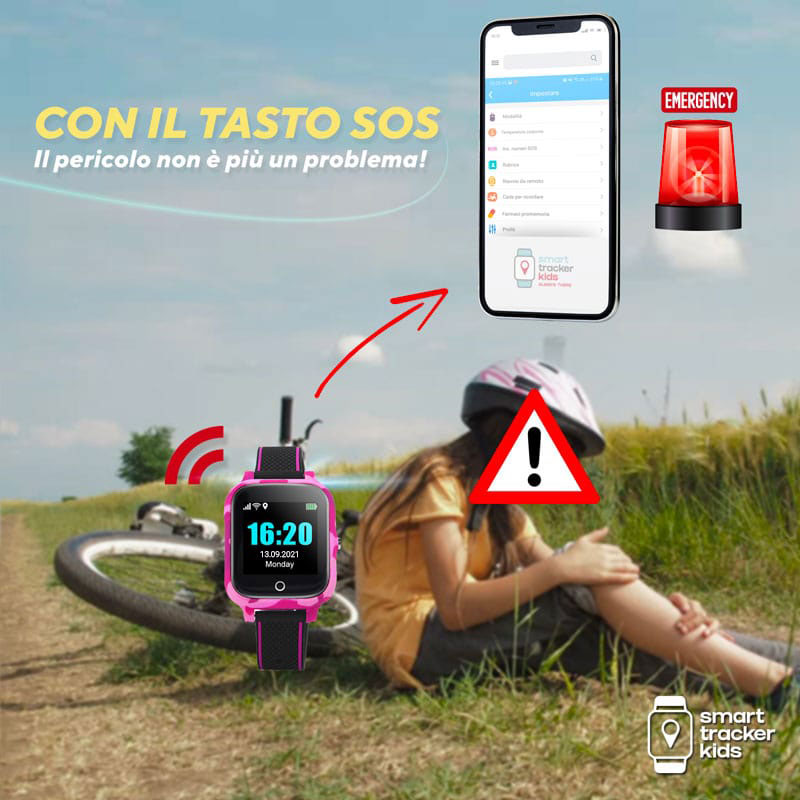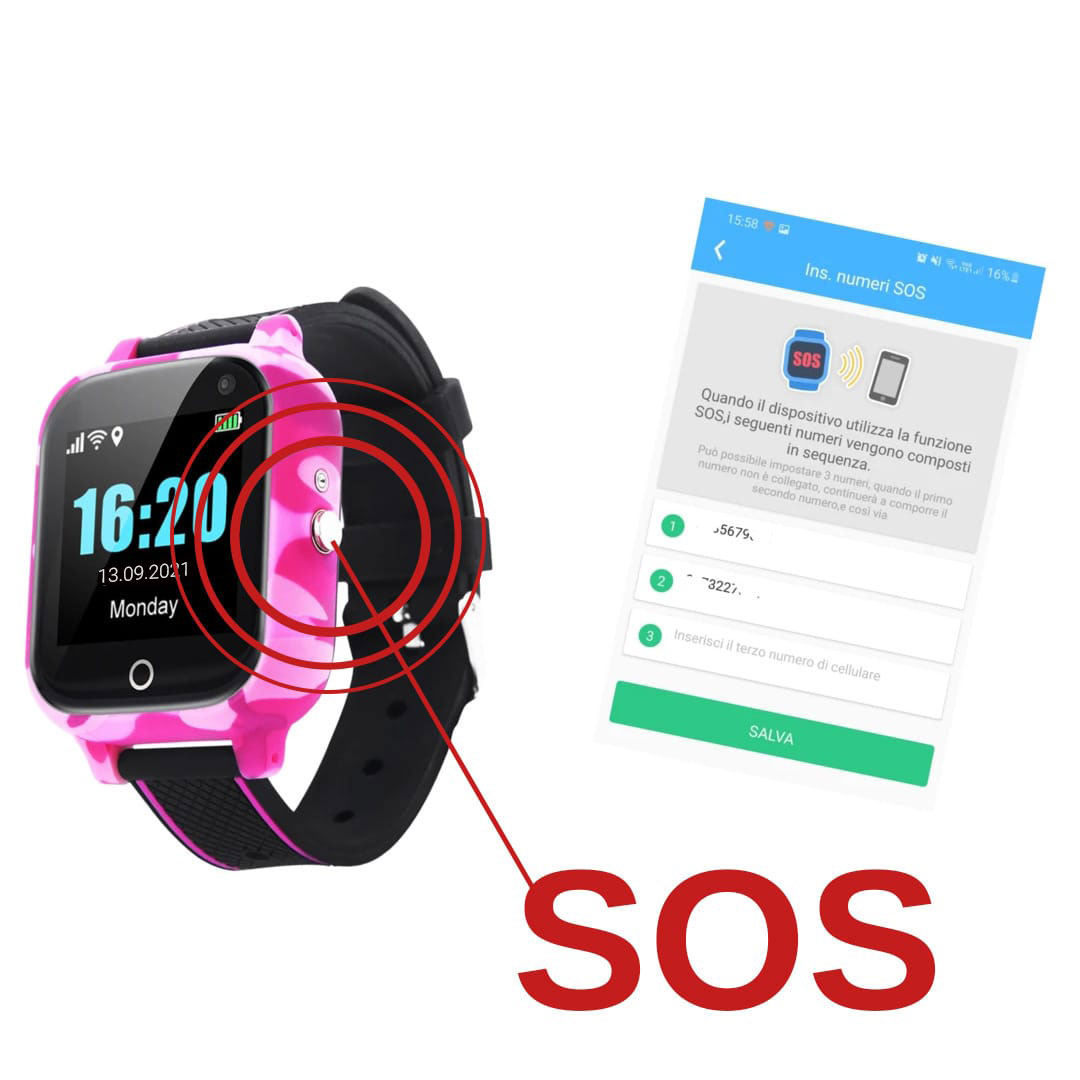 Smartwatch with touchscreen for kids
If you are looking for a practical and easy-to-use kids' smartwatch, both for you and for your child, SmartTrackerKids 20T is the kids' touchscreen smartwatch for you! Its touchscreen makes it easy to understand, providing quick access to all of the watch's functions.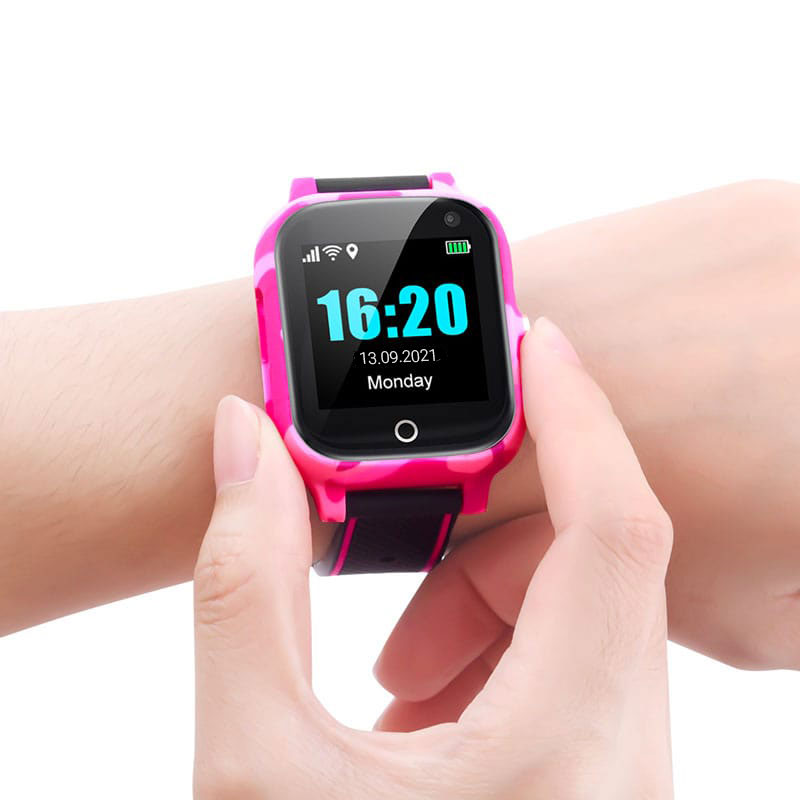 In addition, this kids' touchscreen watch is available in attractive color variations, so your child can choose the case and strap he/she prefers!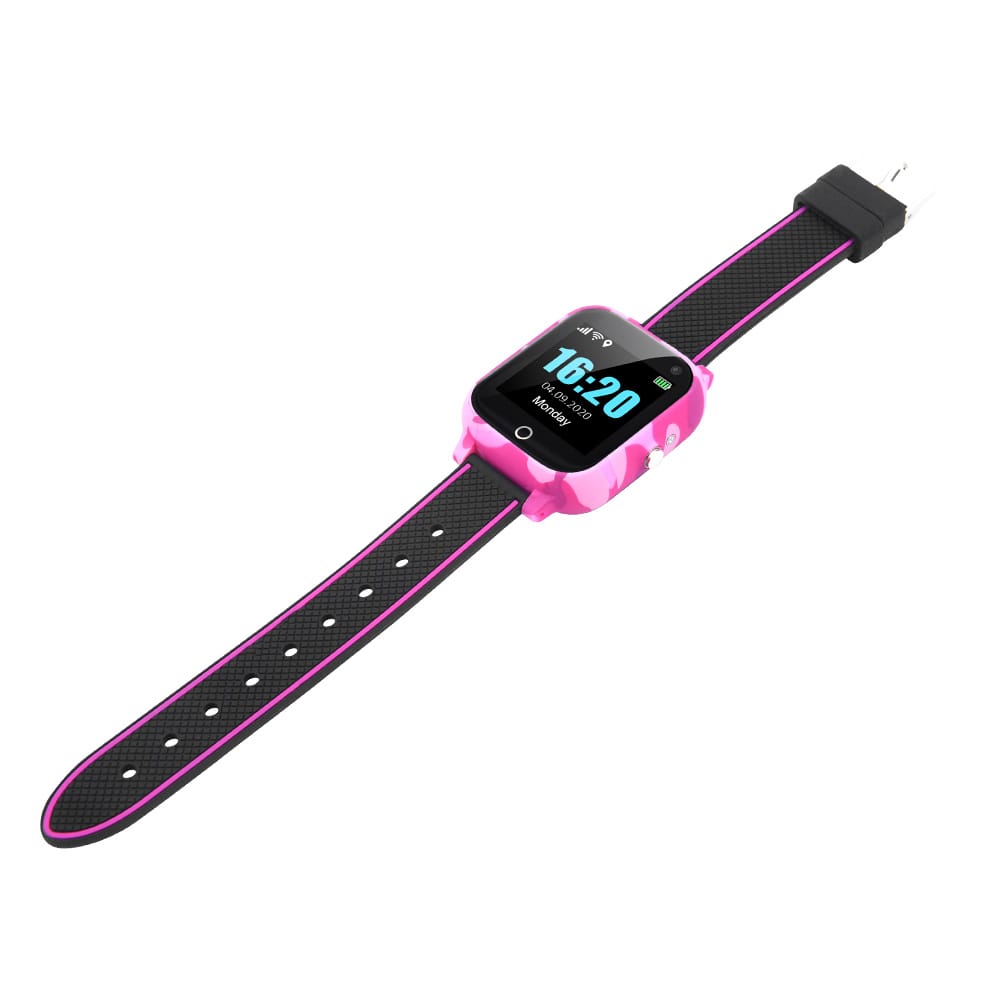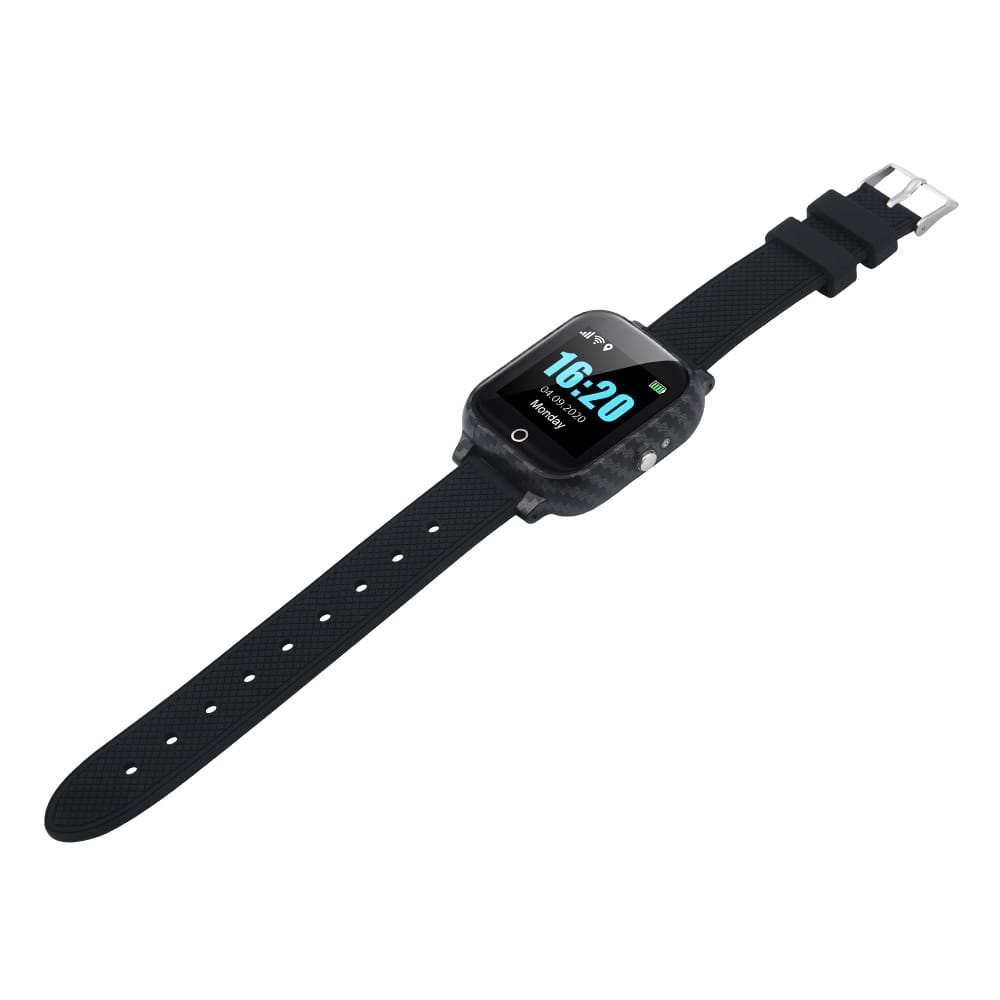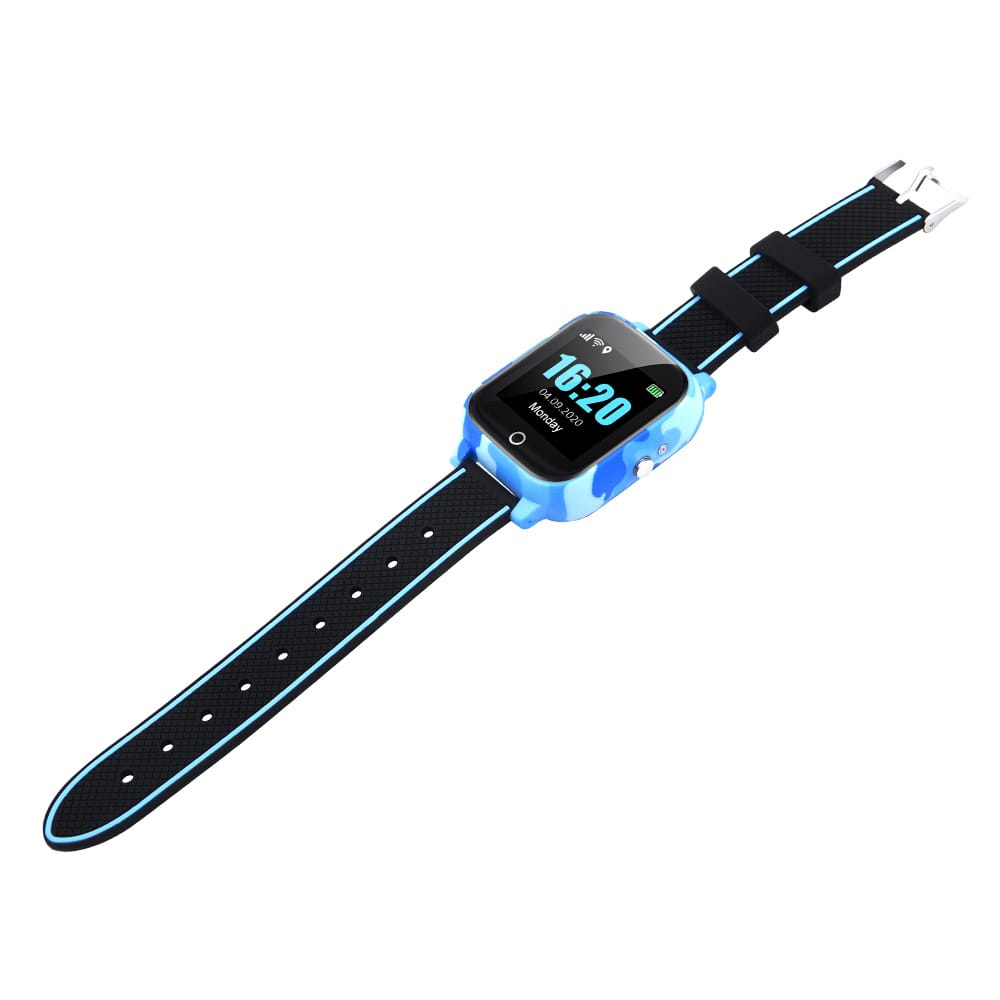 Technical characteristics of the kids' smartwatch
• Display: Touchscreen 1.3" IPS
• Chipset: MTK MT2503
• GSM Antenna: High sensitivity ceramic active antenna
• GPS Signal: L1, 1575.42MHz C/A
• GPRS: Class 12
• Localization: GPS+Beidou+WiFi+LBS
• Protection: Waterproof Smartwatch IP67 class
Special features of the kids' smartwatch
• Step counter and exercise counter


• Thermometer


• Vibration
• Anti-shock Alert (immediate warning in case of falls)
• Real-time GPS tracker for kids
• Geo-fencing feature (security fence)
• Remote listening and Voice Talk-Back (allows the kids' smartwatch to make calls)


• SOS button (immediate emergency call to 3 numbers set)
• Low-battery alert
• "Do not disturb" feature (ideal for the use of the smartwatch at school or in other places where silent use is necessary).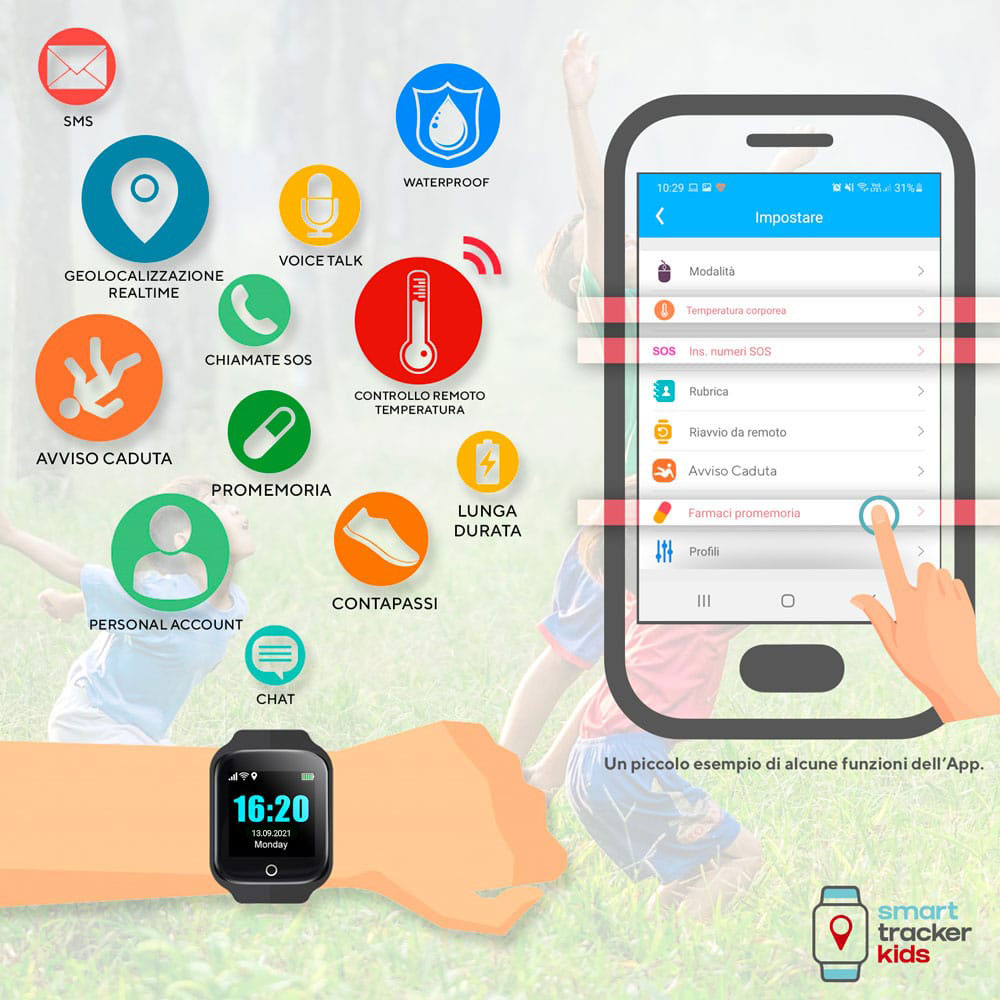 SmartTrackerKids 20T - The smartwatch for kids that never leaves your child alone.